Hello Sir,
Hope you are doing well.
Recently I was reading about Lab Grown Diamonds (LGD) which are fast gaining acceptability in the Indian market.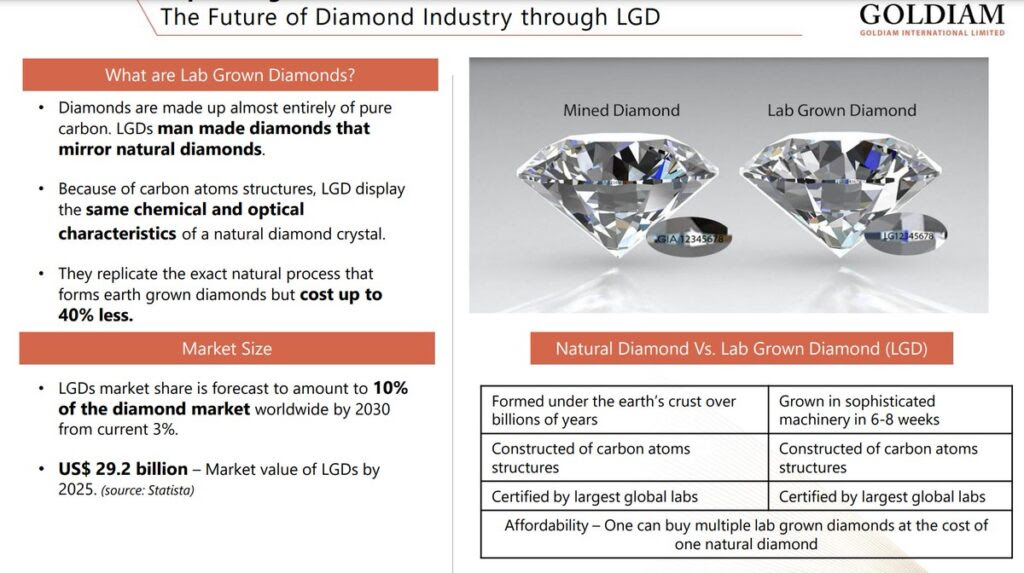 Source: Goldiam Investor Presentation
As per our understanding, currently Goldiam International is the only major listed company dealing in LGDs and primarily sells in US market.
LGDs are chemically, optically and physically identical to earth mined diamonds, but are significantly more affordable. As per Economic Times article, a carat of LGD costs ₹60,000-70,000, a fraction of ₹10-11 lakh for a natural diamond. Further, 60% YOY growth in the demand for LGDs is expected this festive season
Below, we have shared interesting insights from the Q2 FY 24 con-call of Goldiam International to understand the current situation and the outlook for the industry.
Info: We have released 1 new Special situation recommendation in the last few days:
Special Situation Recommendation – In this stock, the change in ownership along with already strong profitability and growth might result in re-rating of the company to higher valuations. Further, the stock is consolidating in a tight range and the open offer price caps the downside – Details @ click HERE
The above recommendation can be accessed by subscribing HERE
Goldiam International – Insights from Q2 FY 24 con-call of the company
– General
Our company has exhibited solid growth, despite the challenging macro environment in our key markets, particularly in the USA
I believe the overall industry in the last quarter has de-grown by 3% to 5%, whereas Goldiam has a revenue growth
While the USA remains a crucial market for us, we are making strides in the Middle East, the UK, the European Unions, as well as potentially broadening our horizons with an introduction in India
Out of the sales that we do of lab-grown diamond jewellery, about a third is grown in-house
In terms of our revenue contribution, our top five customers would probably be in that range of 50% to 55% of our overall revenue
Within natural diamond jewellery, our average selling price used to be in the range of $500
Interestingly, even though lab-grown is a lower cost alternative, our average selling price of lab-grown diamond jewellery is close to $850, $900
A one carat solitaire, which retails in India natural diamonds made for about INR4 lakhs to INR5.5 lakhs. But in lab-grown that same one carat diamond can be available for Rs 50,000
– Why margins not higher at 25-30% despite higher contribution of LGD?
In H1, we have about INR 10 crores to 12 crores of inventory realignment that we have taken as lab-grown prices have fallen
We are very happy with the level of margin performance we have delivered in the range of 20% to 22%. If we can sustain this during this environment, we would certainly be very happy with that
We are probably one of the only companies out there who actually grow the diamond, cut the diamond, design the jewellery, produce the jewellery and export jewellery to direct retailers. So, I think with that, margins will continue to be stable
– Competitive advantage in LGD
For a company like ours, being backward integrated into growing lab-grown diamonds will only help us with additional margin and a boost to our margin profile
The true sustainable advantage and competitive advantage is in securing strong distribution with large retail partners and forward integrating into jewellery as much as possible
– Growth strategies
We've been working on as a company to increase wallet share with our customers
We are looking at additional markets, as well as, very importantly, additional categories of jewellery
We will not just be focused on bridal, but very soon we are planning on introducing new collections for high-end fashion
– Industry scenario
Demand scenario in the US, of course, the macro environment remains challenging, particularly for our set of retailers, which is middle market USA
The end customer is impacted by higher mortgage rates, higher interest rates that are eating away from their available wallet share
our company being more of a bridal-focused company, the last four quarters, we have faced a challenge in terms of further uptake of bridal jewellery sales
We are mitigating the lack of demand in natural diamond jewellery with an increase in demand in lab-grown diamond jewellery
Consumers are being almost pushed into buying more lab-grown diamond jewellery because of tighter wallet restrictions
Increasingly, we are seeing all these retailers shift toward new orders being placed on lab-grown, as you can see in our sales mix as well
We see lab-grown prices now moving forward being fairly stable as well
– Guidance
We are looking at anywhere between 20% to 25% EBITDA margin on a company level
(End)
Disclaimer: This is not a recommendation to buy/sell Goldiam International. The securities quoted are for illustration only and are not recommendatory.
Best Regards,
Ekansh Mittal
Research Analyst
Web: https://www.katalystwealth.com/
SEBI Research Analyst Registration No. INH100001690
Research Analyst Details
Name: Ekansh Mittal     Email Id: [email protected]    Ph: +91 727 5050062
Details of Associate: Not Applicable
Analyst Certification: The Analyst certify (ies) that the views expressed herein accurately reflect his (their) personal view(s) about the subject security (ies) and issuer(s) and that no part of his (their) compensation was, is or will be directly or indirectly related to the specific recommendation(s) or views contained in this research report.
Disclaimer: http://www.katalystwealth.com (here in referred to as Katalyst Wealth) is the domain owned by Ekansh Mittal. Mr. Ekansh Mittal is the sole proprietor of Mittal Consulting and offers independent equity research services to investors on subscription basis. SEBI (Research Analyst) Regulations 2014, Registration No. INH100001690
Address – 7, Panch Ratan, 7/128, Swaroop Nagar, Kanpur – 208002, Contact No. – +91-7275050062
Compliance Officer – Mr. Ekansh Mittal, +91-9818866676, ekansh@katalystwealth.com
Grievance Redressal – Mittal Consulting, grievances@katalystwealth.com, +91-9818866676, +91-7275050062
"Registration granted by SEBI and certification from NISM in no way guarantee performance of the intermediary or provide any assurance of returns to investors".
"Investment in securities market are subject to market risks. Read all the related documents carefully before investing."
The views expressed are based solely on information available publicly and believed to be true. Investors are advised to independently evaluate the market conditions/risks involved before making any investment decision
This report is for the personal information of the authorized recipient and does not construe to be any investment, legal or taxation advice to you. Ekansh Mittal/Mittal Consulting/Katalyst Wealth is not soliciting any action based upon it. This report is not for public distribution and has been furnished to you solely for your information and should not be reproduced or redistributed to any other person in any form. This document is provided for assistance only and is not intended to be and must not alone be taken as the basis for an investment decision. Ekansh Mittal or any of its affiliates or employees shall not be in any way responsible for any loss or damage that may arise to any person from any inadvertent error in the information contained in this report. Neither Ekansh Mittal, nor its employees, agents nor representatives shall be liable for any damages whether direct or indirect, incidental, special or consequential including lost revenue or lost profits that may arise from or in connection with the use of the information. Ekansh Mittal/Mittal Consulting or any of its affiliates or employees do not provide, at any time, any express or implied warranty of any kind, regarding any matter pertaining to this report, including without limitation the implied warranties of merchantability, fitness for a particular purpose, and non-infringement.
The recipients of this report should rely on their own investigations. Ekansh Mittal/Mittal Consulting and/or its affiliates and/or employees may have interests/ positions, financial or otherwise in the securities mentioned in this report. Mittal Consulting has incorporated adequate disclosures in this document. This should, however, not be treated as endorsement of the views expressed in the report.
We submit that no material disciplinary action has been taken on Ekansh Mittal by any regulatory authority impacting Equity Research Analysis.
Disclaimer: You can access it here – LINK
Whether the research analyst or research entity or his associate or his relative has any financial interest in the subject company/companies and the nature of such financial interest – No
Whether the research analyst or research entity or his associates or his relatives have actual/beneficial ownership of 1% or more securities of the subject company (at the end of the month immediately preceding the date of publication of the research report or date of the public appearance) – No
Whether the research analyst or research entity or his associate or his relative has any other material conflict of interest at the time of publication of the research report or at the time of public appearance – No
Whether it or its associates have received any compensation from the subject company in the past twelve months – No
Whether it or its associates have managed or co-managed public offering of securities for the subject company in the past 12 months – No
Whether it or its associates have received any compensation for investment banking or merchant banking or brokerage services from the subject company in the past 12 months – No
Whether it or its associates have received any compensation for products or services other than investment banking or merchant banking or brokerage services from the subject company in the past 12 months – No
Whether the subject company is or was a client during twelve months preceding the date of distribution of the research report and the types of services provided – No
Whether the research analyst has served as an officer, director or employee of the subject company – No
Whether the research analyst or research entity has been engaged in market making activity for the subject company – No