Hello Sir,
Hope you are doing well.
In any business the businessman talks only about the positives, more so when interacting with potential customers.
This is especially true of stock research business wherein most of the analysts hide the bad recommendations or periods of bad returns and highlight only the good part. In fact, the stock research business is famous for its notoriety wherein many analysts even put up fake performances.
However, as you may understand, investing in stocks isn't a smooth ride. There are periods when stocks don't perform, or there are times when one has to book losses in certain stocks. The same has happened with us as well and today we will share with you some of our biggest stock recommendation mistakes in terms of returns -
Our biggest stock recommendation mistakes
Sanghvi Movers - Recommended in 2011
Eros International - Recommended in 2013
Vaibhav Global - Recommended in 2014
GIC Housing - Recommended in 2016
Tiger Logistics - Recommended in 2017
Shemaroo - Recommended in 2018
Mirza International - Recommended in 2018
You can find the entire list of stocks recommended by us and the gains/losses on each by clicking HERE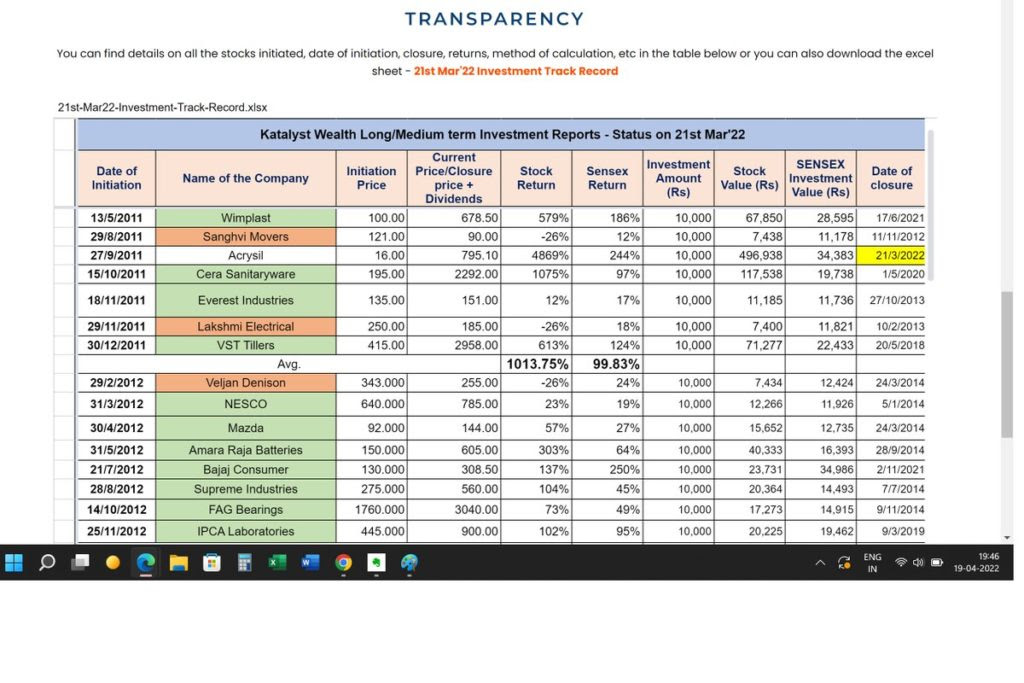 We did some number crunching and found that on an average 2 out of 10 recommended stocks have gone wrong and the average loss on the stocks that go wrong is around 27%.
However, the good part is that 8 still go right and the average gain on those 8 has been almost 10x at 276%.
Frankly speaking, no one wishes to incur loss on any investment; however, it's practically impossible and based on our readings even the best of the investors make money on only 6-8 opportunities out of 10. What matters though is how soon you are able to cut your losses and how much money you make on your profitable ones.
Disclaimer: Out of the stocks mentioned above, we have an ongoing coverage on Shemaroo and I personally hold Vaibhav Global.
If you are looking for investment opportunities do check out our premium subscriptions.
Best Regards,
Ekansh Mittal
Research Analyst
Web: https://www.katalystwealth.com/
SEBI Research Analyst Registration No. INH100001690
Research Analyst Details
Name: Ekansh Mittal Email Id: [email protected] Ph: +91 727 5050062
Disclaimer: You can access it here - LINK
Whether the research analyst or research entity or his associate or his relative has any financial interest in the subject company/companies and the nature of such financial interest – Yes, in Vaibhav Global
Whether the research analyst or research entity or his associates or his relatives have actual/beneficial ownership of 1% or more securities of the subject company (at the end of the month immediately preceding the date of publication of the research report or date of the public appearance) – No
Whether the research analyst or research entity or his associate or his relative has any other material conflict of interest at the time of publication of the research report or at the time of public appearance – No
Whether it or its associates have received any compensation from the subject company in the past twelve months – No
Whether it or its associates have managed or co-managed public offering of securities for the subject company in the past 12 months – No
Whether it or its associates have received any compensation for investment banking or merchant banking or brokerage services from the subject company in the past 12 months – No
Whether it or its associates have received any compensation for products or services other than investment banking or merchant banking or brokerage services from the subject company in the past 12 months – No
Whether the subject company is or was a client during twelve months preceding the date of distribution of the research report and the types of services provided – No
Whether the research analyst has served as an officer, director or employee of the subject company – No
Whether the research analyst or research entity has been engaged in market making activity for the subject company – No