Hello Sir,
Hope you are doing well.
Pipes industry in India has delivered some of the biggest wealth creators: Astral, Supreme, Finolex, etc.
You may have also heard of PVC, UPVC, CPVC at the time of construction/renovation of your house. Today, we will look at the variants of PVC pipes and differences between them.
Before that, if you are interested in investing in a Pharmaceutical company which has made an extremely complex and poisonous material from scratch (with a worldwide market potential of Rs 27,000 crore +) and is the only Indian maker, you can read about it here - LINK
Classification of Plumbing Pipes:
PVC pipe (used as a drain, vent line pipe and water transmission)
Cast Iron pipe (mostly used for underground water distribution system)
PEX pipe (cross-linked polyethylene) used to supply water only
Rigid Copper pipe - (mostly used for water supply lines within the house)
Flexi pipe (used in kitchen sinks, wash basin)
Galvanized Steel Pipe (used for drainage, water supply, and gas supply pipe)
PVC pipes and variants
PVC or polyvinyl chloride pipe is mostly used as a drain and vent line pipe. It has become common due to lightweight and easy fitting. It's easy to install, cut into pieces and to glue the pipes together.
Plasticizers are added during manufacturing of PVC in order to make it easy to bend and to increase flexibility.
What is UPVC?
UPVC is the unplasticized PVC in which no plasticizer is added and thus making it rigid. It is also resistant to a wide range of chemical damage.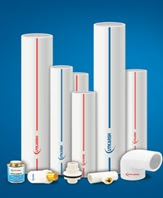 UPVC is a tough, sinewy, transparent and hard-wearing material, and is resistant to the influence of the atmosphere, moisture and various chemicals.
It also has excellent electrical properties and low flammability. UPVC are less bendable and rigid in nature.
What is CPVC?
Chlorinated Polyvinyl Chloride (CPVC) is manufactured by chlorination of PVC polymer.
Due to chlorination, it acquires some unique properties like flexibility and the ability to withstand extreme high temperatures.
It is due to chlorine content that it has excellent chemical resistance, primarily to acids, alkalis and salts, and is therefore ideal for the chemical process industry and drinking water transmission.
Major PVC and CPVC resin and compound manufacturers:
Lubrizol Advanced Materials Inc USA
Sekisui Chemical Co. Ltd Japan
Kaneka Corporation Japan
BASF SE Germany
Shandong Xiangsheng China
Reliance Industries India
Chemplast Sanmar India
It's important to note that DCW Ltd is India's sole manufacturer of CPVC resin.
C-PVC is a highly specialized product with only 4 players globally which have the requisite technology to manufacture C-PVC.
DCW signed the technology license agreement with Arkema.
Disclaimer: We don't have any recommendation, coverage or holding on any of the stocks mentioned above.
If you are looking for investment opportunities do check out our premium subscriptions. We have been helping our clients with our stock research for over a decade now.
Best Regards,
Ekansh Mittal
Research Analyst
Web: https://www.katalystwealth.com/
SEBI Research Analyst Registration No. INH100001690
Research Analyst Details
Name: Ekansh Mittal Email Id: [email protected] Ph: +91 727 5050062
Disclaimer: You can access it here - LINK
Whether the research analyst or research entity or his associate or his relative has any financial interest in the subject company/companies and the nature of such financial interest – No
Whether the research analyst or research entity or his associates or his relatives have actual/beneficial ownership of 1% or more securities of the subject company (at the end of the month immediately preceding the date of publication of the research report or date of the public appearance) – No
Whether the research analyst or research entity or his associate or his relative has any other material conflict of interest at the time of publication of the research report or at the time of public appearance – No
Whether it or its associates have received any compensation from the subject company in the past twelve months – No
Whether it or its associates have managed or co-managed public offering of securities for the subject company in the past 12 months – No
Whether it or its associates have received any compensation for investment banking or merchant banking or brokerage services from the subject company in the past 12 months – No
Whether it or its associates have received any compensation for products or services other than investment banking or merchant banking or brokerage services from the subject company in the past 12 months – No
Whether the subject company is or was a client during twelve months preceding the date of distribution of the research report and the types of services provided – No
Whether the research analyst has served as an officer, director or employee of the subject company – No
Whether the research analyst or research entity has been engaged in market making activity for the subject company – No