Hello Sir,
Hope you are doing well.
I am sure as an investor the last few days might have been tough considering the relentless fall in the markets. However, what's reassuring is that such similar falls have happened in the past and we don't even remember them.
Most of us are aware of the 2008 global market crisis and the resulting crash or the Mar'2020 covid-19 induced market correction.
But, are you aware of the 2006 market correction? Probably not, because it lasted just a month.
You will be shocked to know that in that 1 month SENSEX dropped 30% and Small Cap index dropped 50%. Post that, we all know SENSEX recorded a strong up move to 21,000 till Jan'08 from the lows of 8900 recorded in Jun'06.
Today, we will look at if the ongoing correction has some similarity to the 2015-16 correction which I am sure you don't remember much of.
Before that, in this market correction, if you are interested in investing in a Pharmaceutical company which has made an extremely complex and poisonous material from scratch (with a worldwide market potential of Rs 27,000 crore +) and is the only Indian maker, you can read about it here - LINK
One can never be sure of the extent of any market correction; however there's no harm in looking at market history and getting some data to get the perspective. So, let's look at the 2015-16 correction.
2011-13 market was just as bad as 2018-20 market for small and mid caps. Similarly, like Mar'20 correction, NIFTY SMALLCAP recorded a sharp fall of around 36% from Jan'13 to Aug'13.
However, as the valuations had gotten very low, the markets recorded a sharp recovery with small cap index moving up 136% from Aug'13 to Apr'15.
Post that the markets went into a consolidation mode and the small cap index dropped by 28%. In fact, just like what's happening these days, from Jan'16 to Feb'16, the small cap index dropped by 24%.
What happened after Feb'16? - Small cap index again recorded a strong up move of 120% till Jan'18.
Question is, are there similarities between 2011-15 and 2018-22 and can the markets recover just like they did from 2016 to Jan 2018?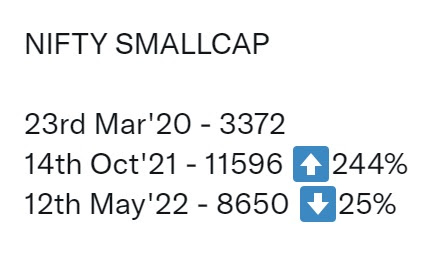 As can be seen from the data above, 2018-22 market movement has been very similar to 2011-15 market movement. A slow grinding fall (2011-13 and 2018-20), followed by major corrections (2013 and 2020), followed by strong up move (2013-15 and 2020-22) and similar fall of around 24-28% (2016 and 2022).
We can't know for sure if the markets will stage a strong up move from here on or not? If they do, this correction will again be forgotten just like the 2 discussed above. What's important though is that this correction is not unique. Markets tend to move in cycles and this is one of those down cycles.
FDs were being made fun of in 2021 and now Equities are being mocked in 2022.
Remember - Never get into the trap of mocking...both have their own significance.
Just like you don't invest 6-24 months emergency funds in equities. Similarly, despite interim corrections, it makes sense to invest in stocks if you have spare funds for 3-5 years.
If you are looking for investment opportunities do check out our premium subscriptions. We have been helping our clients with our stock research for over a decade now.