Hello Sir,
Hope you are doing well.
If you have been investing in stocks, it's very likely that at some point of time you must have had a pharmaceutical stock in your portfolio. We have recommended quite a few Pharma stocks to our members and most of them have delivered decent returns.
India is known as the 'Pharmacy of the world' and has delivered some of the biggest wealth creators.
Therefore, in this mail we have attempted to throw light on some key terms specific to pharma industry so that next time you analyse a Pharma stock, you don't have to search for the basic terms.
Before that, if you are interested in investing in our Latest Stock Recommendation which could benefit from the massive growth expected in the CNG segment and still available around 10 times earnings, you can read about it here - LINK
Important terms to know before evaluating Pharma stocks

Drug Product - A finished dosage form, for example, a tablet, capsule or solution, that contains an active pharmaceutical ingredient, generally, but not necessarily, in association with inactive ingredients.
Drug manufacturing involves 2 general steps: 1st one includes the conversion of raw materials into APIs, 2nd step involves the final formulation of the drug.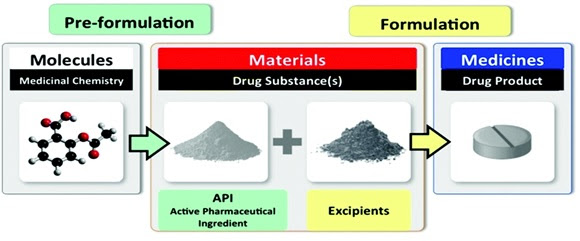 Active Pharmaceutical Ingredient (API) - It is the substance or substances that are biologically active within the drug and is the specific component responsible for the desired healing effect it has on the individual taking it.
Intermediate - These are the drugs used as raw materials for the production of bulk drugs, or they can refer to a material produced during the synthesis of an API that must undergo further molecular change or processing before it becomes an API.
Excipient – It is a constituent of a medicine other than active substance.
Its purpose is to streamline the manufacture of the drug and facilitate physiological absorption.
It generally aids in lubricity, flowability, disintegration, taste, etc.
Formulation – It's the multistep process where active drug is mixed with all other components by considering the factors of particle size, polymorphism, pH, solubility and becomes the final beneficial medicinal product.
It's in the form of capsule, tablet, cream, gel, lotion, etc.
Drug Master File (DMF) – It's a submission by a pharma manufacturer to the FDA that may be used to provide detailed information about facilities, processes, or articles used in the manufacturing, processing, packaging, and storing of one or more human drugs.
New Drug Application (NDA) – When the sponsor of a new drug believes that enough evidence on the drug's safety and effectiveness has been obtained to meet (US)FDA's requirements for marketing approval, the sponsor submits to FDA a NDA.
Application must contain data from specific technical viewpoints for review, including chemistry, pharmacology, medical, bio-pharmaceutics, and statistics.
Abbreviated New Drug Application (ANDA) – Generic drug applications are called "abbreviated" because they are generally not required to include preclinical (animal) and clinical (human) data to establish safety and effectiveness.
Instead, a generic applicant must scientifically demonstrate that its product is bio-equivalent.
If you are looking for investment opportunities do check out our premium subscriptions. We have been helping our clients with our stock research for over a decade now.