Hello Sir,
Hope you are doing well.
In this article, we will tell you if it's time to be Greedy in the market and therefore what should you do as an Investor.
A question that's haunting anyone remotely connected to the markets is, 'Has the market bottomed out or not?'
Basically, everyone wishes to time the market. Also, I think it's a big lie when anyone says, 'You shouldn't try to time the market'.
Well, one cannot time it to perfection, i.e., buy at the very bottom and sell at the very top. However, one should surely incorporate signals, valuations, charts or other metrics to improve one's timing.
A few days back we shared with you a very important chart that suggests that markets may not have bottomed as yet; however, based on the past trends, they may bottom out in next few months and therefore the next 6-12 months look extremely crucial from the view of wealth creation over the next 3-4 years.
You can read more about the importance of above graph HERE
Today, we will share with you another data point and this again has worked pretty well in suggesting the mood of the market.
Equity Turnover Data
There's a common saying in the market, 'Be fearful when others are Greedy and Greedy when others are fearful'. We always thought, the statement is used very loosely; however, the metrics like the chart above and the equity turnover data quantify the statement to some extent.
Towards the end of the bull run, the participation from the new investors increases substantially. As they make instant money on the stocks purchased, their interest in the market increases, they trade more and as a result the turnover increases.
However, as the markets correct and the investors who entered the peak of the market start witnessing losses on their investments, they lose interest, stop trading, become long term investors and the turnover goes down.
This gets repeated in every cycle. Here's some data for reference:
BSE's average equity monthly turnover in FY 22 – Rs 1.11 lakh crore
BSE's equity turnover in Jun'21 – Rs 1.50 lakh crore
BSE's equity turnover in Jun'22 – Rs 0.63 lakh crore
The turnover for Jun'22 is down more than 50% from the year ago Jun'21 and down more than 40% from the average monthly turnover in FY 22.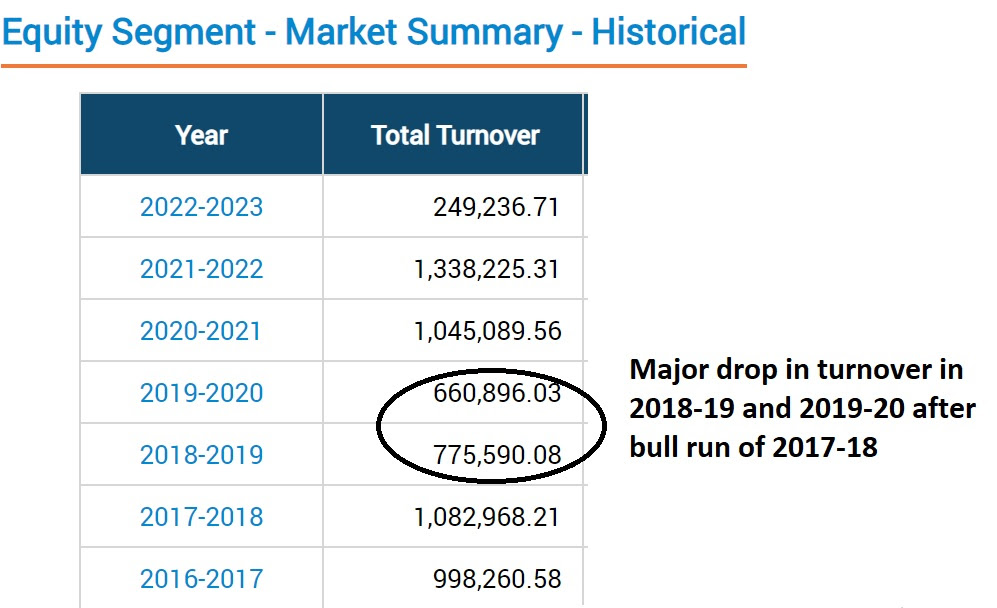 Same story repeated in 2018-19 and 2019-20 after major bull run in 2017-18. As always, most investors lose interest after major market correction.
And this is what we mean by quantification of Greed and Fear.
Clearly, the investors are not greedy anymore and there's a sense of Fear in the market and that's why the oft repeated question – 'Has the market bottomed?'
What should you do as an Investor?
As mentioned above, next 6-12 months look extremely crucial from the view of wealth creation over the next 3-4 years.
SIP Investors – If you were investing in SIP mode, continue your SIPs and may even consider increasing the quantum, if possible.
Lump-sum – If you have lump-sum to invest, spend a greater number of hours identifying good stocks at reasonable valuations and stagger your investment over the next 6-12 months.
Fully invested – If you are fully invested, evaluate your portfolio thoroughly, exit from the stocks where the up cycle may have already played out even if you have to book losses. Identify opportunities which are coming off the lows, turning around or where you think there will be strong earnings growth over the next 3-4 years.
Remember, don't expect immediate run-up in stocks, in fact it's quite possible that you may buy something reasonably valued today and may later find it 10-20% cheaper.
Best Regards,
Ekansh Mittal
Research Analyst
Web: https://www.katalystwealth.com/