Hello Sir,
Hope you are doing well.
There are several hospital stocks listed in India, like - Kovai Medical, Apollo Hospitals, Narayana Hrudayalaya and a few more.
Our team recently looked at some data with respect to Medical Tourism and would like to share with you details on the same.
Before Covid-19 struck, Medical tourism was growing at a fast pace with India being a key beneficiary of the same. Now that things are back to normal, people are raring to travel, medical tourism should again resume its growth trajectory.
Thus, the details might be of interest to you if you are invested in or planning to invest in healthcare stocks:
We are working on few interesting stock investment opportunities and will recommend something good in the next few days. You can get it along with our other Premium Members by signing up HERE
Medical Tourism

Introduction -
Medical tourism, also called health tourism, surgical tourism, or medical travel is the process of traveling outside the country of residence for the purpose of receiving medical care. It may be broadly classified into following 3 categories:
Medical Treatment for curative purpose that may include cardiac surgery, organ transplant, hip and knee replacement, etc.
Wellness & Rejuvenation offerings focused on rejuvenation or for aesthetic reasons such as cosmetic surgery, stress relief, spas etc.
Alternative Cures - Alternative systems of medicines such as India's offering of AYUSH (Ayurveda, Yoga & Naturopathy, Unani, Siddha and Homeopathy)
Why do people travel to another country -
Cheaper Cost: To get treatment or a procedure that may be cheaper in another country
Unavailable or Unapproved procedure: To get a procedure or therapy that is not available or approved in their own country
Improved healthcare, cutting-edge technologies, breakthrough medicines, sophisticated devices, superior hospitality, and individualized care are some of the major reasons for medical tourism
India - A major medical tourism destination -
As per Ministry of Tourism, proportion of medical tourists grew from 2.2% (0.11 Mn tourist) in 2009 to 6.4% (0.69 Mn tourists) in 2019
88% of medical tourists are from Africa, West Asia and other South Asian nations
India receives most of its medical tourists from Afghanistan, Pakistan, Oman, Bangladesh, Maldives, Nigeria, Kenya and Iraq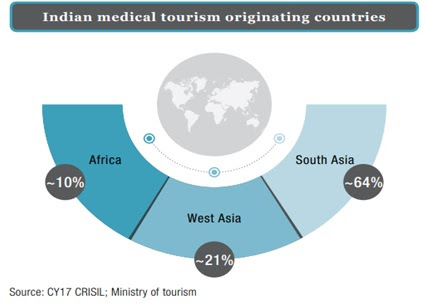 India is ranked 10th out of the top 46 countries in the world in the Medical Tourism Index 2020-21 by Medical Tourism Association
In 2015, foreign tourist arrivals (FTAs) in India on grounds of medical visa were recorded as 2,33,918, which more than doubled in 2017
Between 2017-19, India experienced 40% growth in FTAs, with the no. of tourists increasing from 495,056 in 2017 to 697,000 in 2019
In India, procedures such as knee replacement, hip replacement, and gastric bypass are more affordable
(End)
Disclaimer: This is not a recommendation on the stocks mentioned above.
If you are looking for investment opportunities do check out our premium subscriptions. We have been helping our clients with our stock recommendations for over a decade now.
Best Regards,
Ekansh Mittal
Research Analyst
Web: https://www.katalystwealth.com/
SEBI Research Analyst Registration No. INH100001690
Research Analyst Details
Name: Ekansh Mittal Email Id: [email protected] Ph: +91 727 5050062
Details of Associate: Not Applicable
Analyst Certification: The Analyst certify (ies) that the views expressed herein accurately reflect his (their) personal view(s) about the subject security (ies) and issuer(s) and that no part of his (their) compensation was, is or will be directly or indirectly related to the specific recommendation(s) or views contained in this research report.
Disclaimer: http://www.katalystwealth.com (here in referred to as Katalyst Wealth) is the domain owned by Ekansh Mittal. Mr. Ekansh Mittal is the sole proprietor of Mittal Consulting and offers independent equity research services to investors on subscription basis. SEBI (Research Analyst) Regulations 2014, Registration No. INH100001690
The views expressed are based solely on information available publicly and believed to be true. Investors are advised to independently evaluate the market conditions/risks involved before making any investment decision
This report is for the personal information of the authorized recipient and does not construe to be any investment, legal or taxation advice to you. Ekansh Mittal/Mittal Consulting/Katalyst Wealth is not soliciting any action based upon it. This report is not for public distribution and has been furnished to you solely for your information and should not be reproduced or redistributed to any other person in any form. This document is provided for assistance only and is not intended to be and must not alone be taken as the basis for an investment decision. Ekansh Mittal or any of its affiliates or employees shall not be in any way responsible for any loss or damage that may arise to any person from any inadvertent error in the information contained in this report. Neither Ekansh Mittal, nor its employees, agents nor representatives shall be liable for any damages whether direct or indirect, incidental, special or consequential including lost revenue or lost profits that may arise from or in connection with the use of the information. Ekansh Mittal/Mittal Consulting or any of its affiliates or employees do not provide, at any time, any express or implied warranty of any kind, regarding any matter pertaining to this report, including without limitation the implied warranties of merchantability, fitness for a particular purpose, and non-infringement.
The recipients of this report should rely on their own investigations. Ekansh Mittal/Mittal Consulting and/or its affiliates and/or employees may have interests/ positions, financial or otherwise in the securities mentioned in this report. Mittal Consulting has incorporated adequate disclosures in this document. This should, however, not be treated as endorsement of the views expressed in the report.
We submit that no material disciplinary action has been taken on Ekansh Mittal by any regulatory authority impacting Equity Research Analysis.
Disclaimer: You can access it here - LINK
Whether the research analyst or research entity or his associate or his relative has any financial interest in the subject company/companies and the nature of such financial interest – No
Whether the research analyst or research entity or his associates or his relatives have actual/beneficial ownership of 1% or more securities of the subject company (at the end of the month immediately preceding the date of publication of the research report or date of the public appearance) – No
Whether the research analyst or research entity or his associate or his relative has any other material conflict of interest at the time of publication of the research report or at the time of public appearance – No
Whether it or its associates have received any compensation from the subject company in the past twelve months – No
Whether it or its associates have managed or co-managed public offering of securities for the subject company in the past 12 months – No
Whether it or its associates have received any compensation for investment banking or merchant banking or brokerage services from the subject company in the past 12 months – No
Whether it or its associates have received any compensation for products or services other than investment banking or merchant banking or brokerage services from the subject company in the past 12 months – No
Whether the subject company is or was a client during twelve months preceding the date of distribution of the research report and the types of services provided – No
Whether the research analyst has served as an officer, director or employee of the subject company – No
Whether the research analyst or research entity has been engaged in market making activity for the subject company – No