Hello Sir,
Hope you are doing well.
Today, we would like to share with you our complete list of stocks recommended till Sep'22.
[New Stock recommendation] - It's a leading Pharmaceutical company with global leadership in its product segment, net debt free and available at very reasonable valuations. Can read about the company HERE
You too can get it along with other recommendations, by subscribing HERE
Basically, at Katalyst Wealth, we strongly believe in the idea of wealth creation and achieving financial independence using the Power of Equities.
Also, we love digging up unidentified, undiscovered small-mid cap stocks with great potential for wealth creation. We understand the fact that when investing in stocks there are bound to be mistakes, and that's why our philosophy is to position ourselves to be lucky.
We do so by looking for low-risk Investment opportunities with significant potential for gains. The idea is to lose little in the ones that go wrong against significant gains in the right ones.
You can find Names of all the stocks recommended, date of initiation, closure, returns, method of calculation, etc from the google sheet uploaded at the following link – Click HERE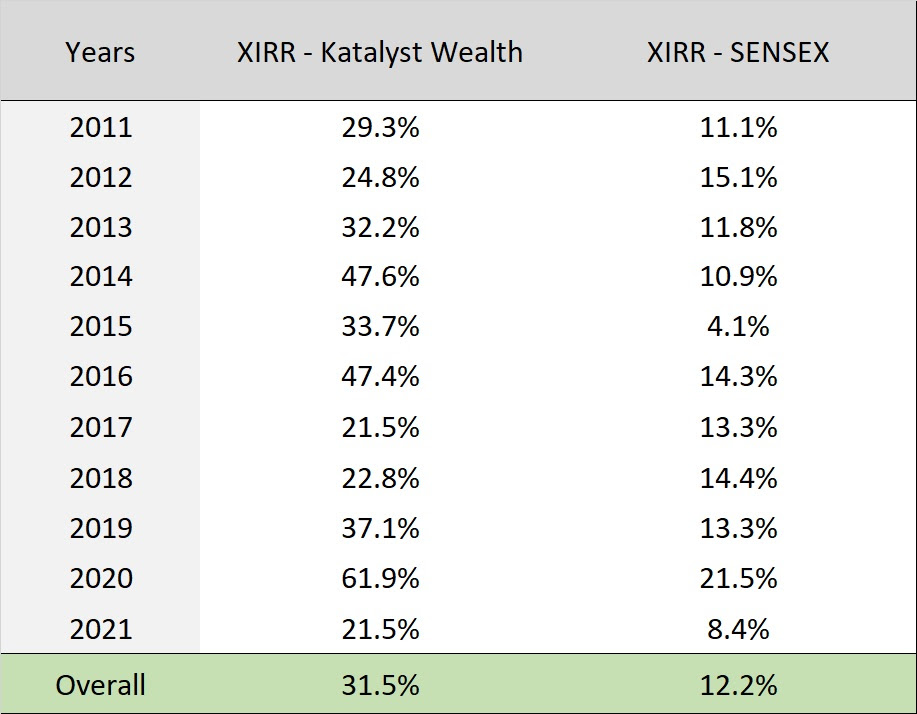 [2011-2022] Performance Snapshot
Highlights of our Track Record [2011-22] as on 16th Oct'22
8 out of every 10 stocks recommended by us have delivered positive returns
Max. return by a stock – 3,518%
Avg. Return on Profitable Stocks – 239%
Avg. Loss on Negative Stocks – 26%
Overall Avg. Return - 179%
Yearly XIRRs mentioned are based on the stocks recommended in the particular Calendar Year. Past performance is not an indication of future returns.
If you are looking for investment opportunities do check out our premium subscriptions.
Happy Investing
Best Regards,
Ekansh Mittal
Research Analyst
Web: https://www.katalystwealth.com/
SEBI Research Analyst Registration No. INH100001690
Research Analyst Details
Name: Ekansh Mittal Email Id: [email protected] Ph: +91 727 5050062
Details of Associate: Not Applicable
Analyst Certification: The Analyst certify (ies) that the views expressed herein accurately reflect his (their) personal view(s) about the subject security (ies) and issuer(s) and that no part of his (their) compensation was, is or will be directly or indirectly related to the specific recommendation(s) or views contained in this research report.
Disclaimer: http://www.katalystwealth.com (here in referred to as Katalyst Wealth) is the domain owned by Ekansh Mittal. Mr. Ekansh Mittal is the sole proprietor of Mittal Consulting and offers independent equity research services to investors on subscription basis. SEBI (Research Analyst) Regulations 2014, Registration No. INH100001690
The views expressed are based solely on information available publicly and believed to be true. Investors are advised to independently evaluate the market conditions/risks involved before making any investment decision
This report is for the personal information of the authorized recipient and does not construe to be any investment, legal or taxation advice to you. Ekansh Mittal/Mittal Consulting/Katalyst Wealth is not soliciting any action based upon it. This report is not for public distribution and has been furnished to you solely for your information and should not be reproduced or redistributed to any other person in any form. This document is provided for assistance only and is not intended to be and must not alone be taken as the basis for an investment decision. Ekansh Mittal or any of its affiliates or employees shall not be in any way responsible for any loss or damage that may arise to any person from any inadvertent error in the information contained in this report. Neither Ekansh Mittal, nor its employees, agents nor representatives shall be liable for any damages whether direct or indirect, incidental, special or consequential including lost revenue or lost profits that may arise from or in connection with the use of the information. Ekansh Mittal/Mittal Consulting or any of its affiliates or employees do not provide, at any time, any express or implied warranty of any kind, regarding any matter pertaining to this report, including without limitation the implied warranties of merchantability, fitness for a particular purpose, and non-infringement.
The recipients of this report should rely on their own investigations. Ekansh Mittal/Mittal Consulting and/or its affiliates and/or employees may have interests/ positions, financial or otherwise in the securities mentioned in this report. Mittal Consulting has incorporated adequate disclosures in this document. This should, however, not be treated as endorsement of the views expressed in the report.
We submit that no material disciplinary action has been taken on Ekansh Mittal by any regulatory authority impacting Equity Research Analysis.
Disclaimer: You can access it here - LINK