Hello Sir,
Hope you are doing well.
Today, we would like to share with you our complete list of stocks recommended till Nov'22.
I was going through all the stock recommendations made by us since 2011.
Found out that we have been covering 3 stocks for more than 8 years now including 1 stock for 11 + years. The returns on all 3 have been decent at 9x, 18x and 32x (including dividends).
You can find details of all the stocks recommended, including the bad ones from the google sheet uploaded at the following link – Click HERE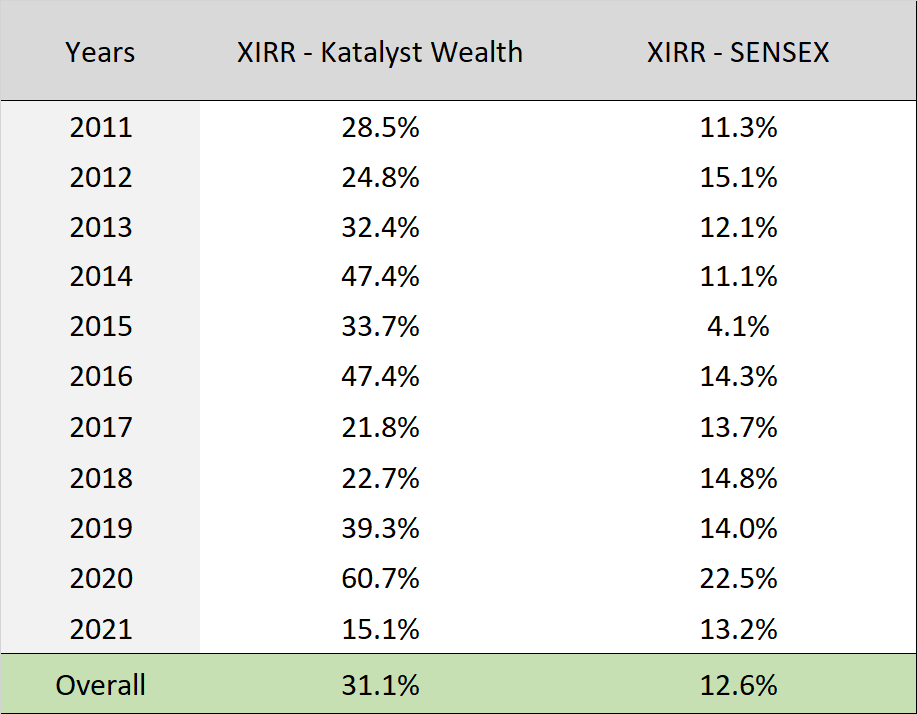 [2011-2022] Performance Snapshot
Highlights of our Track Record [2011-22] as on 13th Dec'22
8 out of every 10 stocks recommended by us have delivered positive returns
Max. return by a stock – 3,124%
Avg. Return on Profitable Stocks – 236%
Avg. Loss on Negative Stocks – 25%
Overall Avg. Return – 174%
*Yearly XIRRs are as on the date mentioned above and for the stocks recommended in the particular Calendar Year. Past performance is not an indication of future returns.
Recently, we released our New Stock Recommendation for Premium Members
It's a food processing company, virtually debt free, compounded profits at 20% + consistently, maintained returned ratios like ROE and ROCE at 20% +, doubled its market share in exports in its segment in the last 6-7 years and yet available at less than 7 times Pre-tax earnings.
You too can get it along with other recommendations, by subscribing HERE
Happy Investing
Best Regards,
Ekansh Mittal
Research Analyst
Web: https://www.katalystwealth.com/