Hello Sir,
Today, let me talk about the most important habit that everyone should build as early as possible in life.
It is the habit of Saving and Investing!!
I was lucky enough to start earning small sums of money at the age of 21 and started investing in stocks as I had some exposure to stock market due to my family background.
Recently, I came across an illustration by L&T Financial services mutual fund and the numbers were quite astonishing to say the least. Here are the details -
Before that, recently, we released our New Stock Recommendation for Alpha and Alpha + Members
It's a food processing company, virtually debt free, compounded profits at 20% + consistently, maintained returned ratios like ROE and ROCE at 20% +, doubled its market share in exports in its segment in the last 6-7 years and yet available at less than 7 times Pre-tax earnings.
You can get it along with other recommendations, by subscribing HERE
The impact of compounding and why it's important to start saving and investing early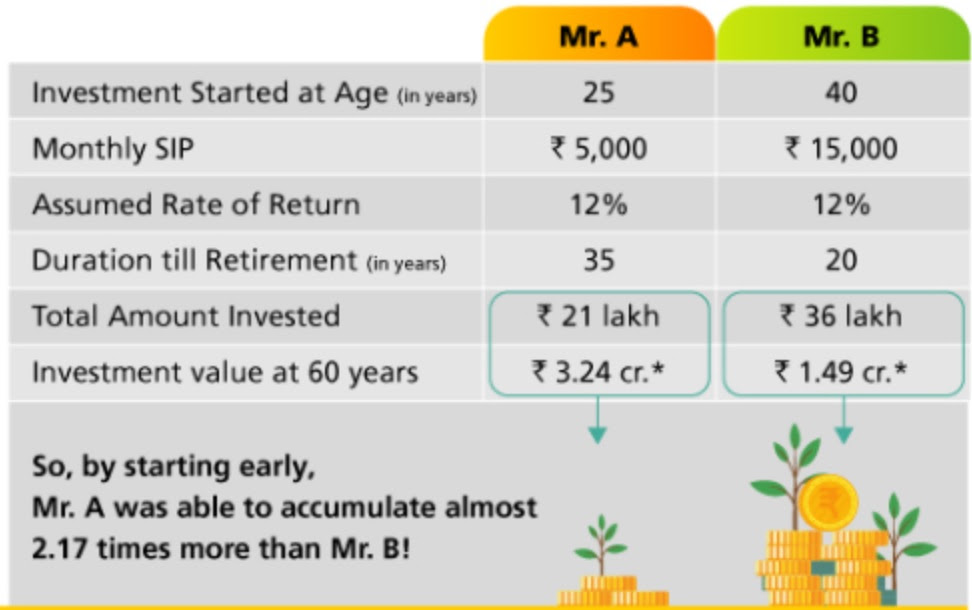 Source: L&T Financial services mutual fund
As can be seen in the picture above, there are 2 investors - Mr. A and Mr. B.
Mr. A starts saving and investing at an early age of 25. He does so with a small amount of Rs 5,000. Assuming he keeps investing only Rs 5,000 monthly till the age of his retirement, he amasses a wealth of Rs 3.24 crore at an assumed rate of return of 12%.
Against the same, Mr. B starts late at 40; however to compensate for the late start he invests 3x the amount, i.e. Rs 15,000 monthly. However, despite investing 3x the amount of Mr. A, Mr. B amasses only Rs 1.49 crore by his retirement age.
It is truly astonishing to see the power of compounding over longer periods.
(End)